Characteristics
Compressed air and water from an air compressor will enter into the drain valve through the upper water inlet whereby dirt and rust will pass the filter before being accumulated at filter net. The compressed air which passes second layer filter before entering the controller will push up a piston to shut up water outlet while water will pass through the upper filter and flow into the lower water collection tank. When water level reaches to half of float ball, it will ascend and will block the air inlet piston at top of the controller. When compressed air moves to upper of the controller, it will push piston to open the water outlet the water is discharged. Upon descent of float ball, it will shut off air inlet piston to prevent compressed air from entering the controller; while the remnant compressed air will go out through pores in center of piston and compressed air at lower part of piston will push up the piston to shut d the drain valve at the bottom.
AD-34, AD-34M Air Pressure Controller, which is characterized by high performance and at the most reasonable price, is designed so that several units may be installed at the latter portion of compressed air system for the purpose of discharging water accumulated in the filter, drier and piping system. Such features of this product as superior performance, rigidity and durability are much better than the conventional drain valves, as detailed in the following: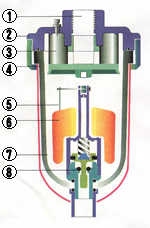 With large diameter sized entrance and path to permit particles and rust, no accumulation will occur in inactive corners.
Aluminum alloy casting with special anti-corrosion treatment, then coated with high quality baking varnish that can withstand acid and base without any corrosion occurring.
Large volume filtered dirt storing compartment can filter and store more rust and dirt than other common automatic drain valves.
Water collection bowl, made of an optical transparent plastic material, will not rupture.
Implanted stainless rod for the float will never slip off.
Large size float has more buoyancy and is more sensitive to control.
Large size water collecting bowl can store and drain more water thus reduce the draining time and increase the service life of the automatic drain valve.
Leak proof ring, made of high quality VITON rubber, can endure abrasion without leakage. Its service time is ten times longer than NBR rubber.
TONAIR automatic drain valve is characterized by multi-functions which is designed to assure cleanliness in compressed air system, upgrade compressed air quality, avoid malfunctioning of air compressor as well as upgrading in efficiency and productivity of plants and is indispensable to air compressor at chemical plants.
Specification
| - | AD-34 (AD-34M) |
| --- | --- |
| Dimensions | High 18 cm (7"), Diameter 10 cm (4") |
| Weight | 0.78 kg |
| Operating pressure | 1.3 KG/CM2~13 KG/CM2(20~185 PSIG) |
| Operating temperature | 2℃~60℃ (36~140℉) |
| Inlet | 1/2" PT(NPT) |
| Outlet | 3/8" PT(NPT) |
| Discharge per operation | 60cc/次 (Max. operation 25 times per minute) |
AD-34 Water collecting bowl is made of Nylon with steel protective shield.
AD-34M Explosion-proof water colleting bowl is made of aluminum alloy.
Packing: 24 pieces per carton: Gross Wt: 20KGS Net Wt:19KGS
Carton measurements: 43X33X39cm
Installation
| | | | | |
| --- | --- | --- | --- | --- |
| Air Tank | Separator | Air Dryer | Air Filter | Drop Leg |
| | | | | |

Use 1/2" dimension socket to connect this product with bottom of the selected above air compressor, provided that the connection shall provide a space no less than 300m/m.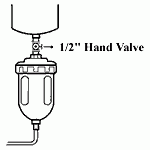 It is recommended that one 1/2" dimension manual operated valve be provided between the air compressor and the inlet of AD-34 to facilitate maintenance/repair in future. Use 3/8" socket to connect water outlet and the pipe.
CAUTIONS:
The displacement of the air compressor, for which this product is to be installed shall be no less than 180L/min (about 1 HP).
Operating temperature at 2° C~60° C.
Operating pressure: 1.3KG/CM2~13KG/CM2(20~185PSIG)。
If extension pipe is used for water inlet or outlet, the position for installation of this product shall not be higher than air compressor. The position of water drain pipe shall not be higher than this product so as to assure smooth water inflow and discharge.
Do not use high concentration acids or volatile oils (such as hydrochloride acid, gasoline, or toluene ) to clean the trans parent water collection bowl for AD-34, this will damage the bowl.
Basic Maintenance
This product uses compressed air to get rid of water. To prevent dirt from congestion in air compression control passage, this product comprises 3 layers of filter net. After uses the filter nets will accumulate dirt, remove these wets for cleaning after a certain period.
Filter nets shall be removed only after opening of the vent valve on the top cover to release the pressure.
Do not use high-density acids, or volatile oils (hydrochloric acid or toluene) for cleaning of any parts.
For dismantling & re-assembly, follow the sequence indicated in Figure: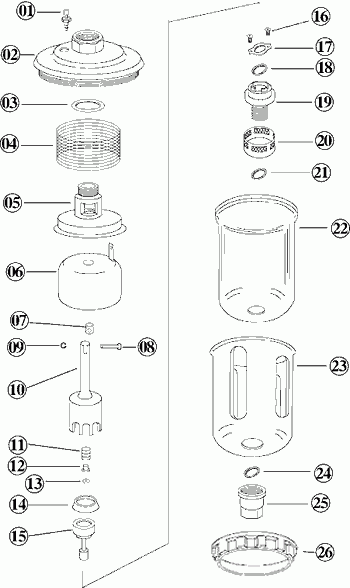 01 Bleeder Valve
14 Piston Ring
02 Top Cover
15 Piston
03 Packing
16 Screw
04 Filter
17 Ring Cover
05 Filter Base
18 O-Ring
06 Float
19 Cylinder Base
07 Inlet Valve
20 Filter
08 Pin
21 O-Ring
09 Retaining Ring
22 Water Bowl
10 Cylinder
23 Steel Cover
11 Spring
24 O-Ring
12 Filter
25 Discharge Water Nut
13 Discharge Plate
26 Screw Ring
Note:
The material of Water Bowl (22)
AD-34: Nylon
AD-34M: Aluminum alloy, no Steel Cover (23)
Trouble Shoouting
Faults
Causes
Trouble-shooting
Water level higher than float ball (06) so that the drain device cannot discharge water automatically.

The applied pressure in excess of the specified limit.
Big amount of dirt congested the control passage.

Lower down the applied pressure within the specified limit.
Remove it for internal cleaning.

Compressed air continues discharging from water outlet (06)

Big amount of dirt congested the control passage.
Breakage of air inlet valve (07), piston ring (14) and O-ring (18).

Remove it for internal cleaning.
Replace air inlet valve (07), piston ring (14) and O-ring (18).

Breakage of transparent water collecting bowl (22)

Contacted with volatile oil.

Replace water collecting bowl and make sure that it shall not contact with volatile oil.

No pressure inside drain valve

Clogged water inlet pipe.
Filter net (04) was clogged by big amount of dirt or oily film.

Clean up dirt from the pipe, or replace the pipe.
Get rid of dirt/oil from filter net (04) and get rid of source of waste oil.